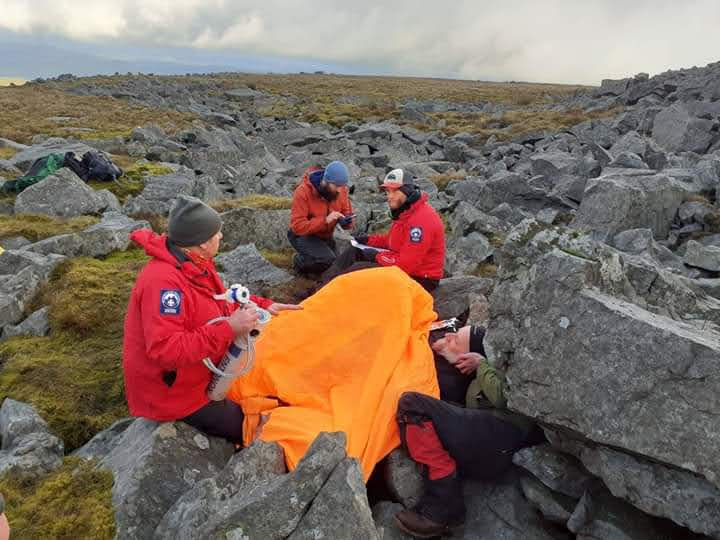 A large part of our time in Mountain Rescue is spent training, with weekly Monday night sessions at our headquarters or in the local area and a full weekend in the Brecon Beacons once a month.
There is a great deal to learn, even for experienced mountaineers. Basic training for searching duties can take as little as 12 weeks depending on the skills of the individual. More advanced training follows, it can take a further 12 to 24 months to become a rescue member.  In reality though training never stops as methods and equipment are constantly evolving.
Thinking about joining?

Prospective members attend an interview and pre-assessment hill day.  This is an informal day with an experienced trained member of the team that allows us to get to know you and for you to find out more about us and the commitment required.  Following this a recommendation will be made to either accept you onto basic skills training, accept you with conditions or not to recommended for membership of the team.
What happens next?
Following a successful pre-assessment you will be invited to join the basic skills training program. This can last from 3 months to 12 months depending on the needs of the individual. The basic skills program concentrates on basic search and rescue techniques and ensures the prospective member is capable and safe to progress to the next level within the team.  Once all elements of the program have been completed an assessment for progression to search membership is carried out. If passed  attendance at team callouts under supervision of an experienced members is allowed.
Becoming a Rescue member
Once the basic skills module is completed training will focus on more advanced elements of mountain rescue,  e.g. technical rescue, advanced casualty care or working near water.  This training gives you the opportunity to progress to Rescue Member and other roles within the team such as Party Leader.
If you interested in applying to join us then take a look at our Join us page.